An Easy Walk To Ogunquit Beach
This map shows the easy walk to Ogunquit Beach – just 5 minutes down Beach Street! The land forms a peninsula, which actually offers two beaches. You can choose from the Ogunquit River beach or the Ogunquit Beach on the Atlantic Ocean side. The ever changing tides make for spectacular views right from our front lawn!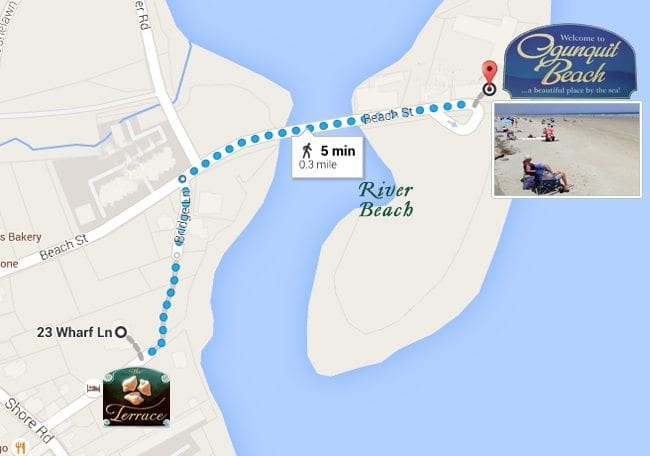 The following information about Ogunquit Beach is offered by the Ogunquit Chamber of Commerce.
The southern coast of Maine is renowned for its white sandy beaches, and Ogunquit proudly boasts the most accessible and stunning beach in the area. And that's not just what we think; that's what travelers think, too! For the past three years, Ogunquit Beach has been awarded with TripAdvisor's Travelers Choice/Best of the Best as one of the top 25 beaches in the U.S.!
Noted one traveler, "Beautiful soft sand beach to walk, sunbathe, play, swim, sit and relax, enjoy the breeze and watch the surfers." Another said, "So much fun!"
Three miles of wide sandy beach stretch from Main Beach, near the center of town, to Footbridge Beach and North Beach. There is paid parking at all three beaches, but guests staying in lodging properties on Shore Road, Beach Street and Route 1 can easily walk to their own spot of Maine Beaches paradise.
Click here for our guest accommodations
Ogunquit Beach Bed And Breakfast